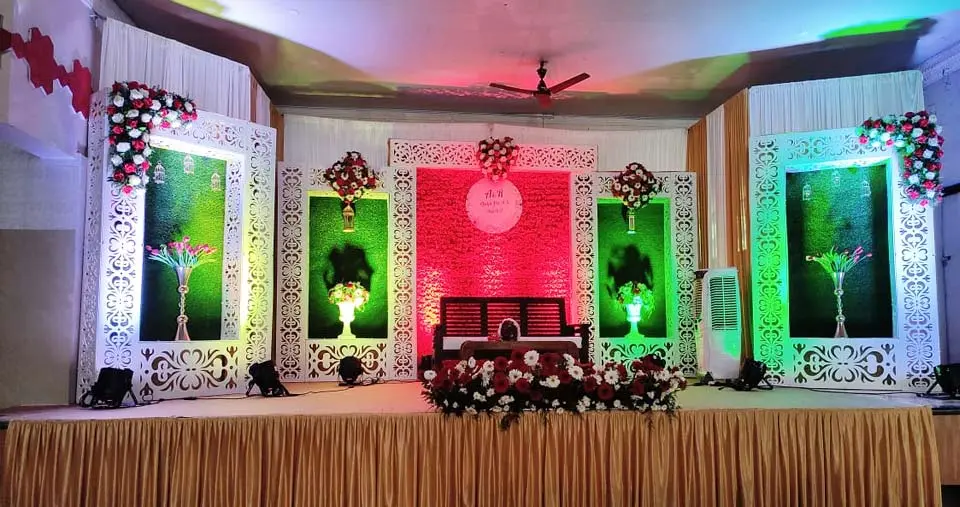 DECORATION
Different decorations are waiting to attract your guests!
Our creative team can simply welcome the wedding couple and the premium attending guests in a number of different ways. Through each way, you can convey to your guests the feeling of being important in the function.
Stage Decorations (Pandal Works)
Wedding Stages are a sacred place where the most awaited moment of many lives come together. The blessed couple stays together from thereon to the end of their lives.
Let us together give them a place that they would never forget in their lives! We build Tents and Pandals, decorate the wedding stage with complete prayers and wishes.
Hall Decorations
A place where all your guests come together to celebrate your moments is the hall. It only requires an elegant decoration to change a large plain concrete room to an inviting hall for your guests.
Choose from different themes that you will love to match your occasion. If those themes do not match your ideas, then come sit with our creative team and let's bring your ideas to reality.
Car Decorations
The vehicle where the star of the day travels needs to have a distinct look from the rest of the cars in the fleet. Such that a person seeing this car from a distance understands at the same second, that this is a wedding car!
Turn your day to day vehicle into a prestigious travelling one, which will be looked upon by a lot of eyes. To get that feeling, allow us to decorate the vehicle for you!
Flower Decorations
Nothing can stand as fresh as floral decorations. Our world is rich with flowers of different colours that can match any theme and occasion.
It only requires a group of creative minds and a florist in Trivandrum to make decorations from stage arrangements, table and chair decorations to the floral decoration on the car. Leave your floral arrangements for us!